Tent Package (75 guests)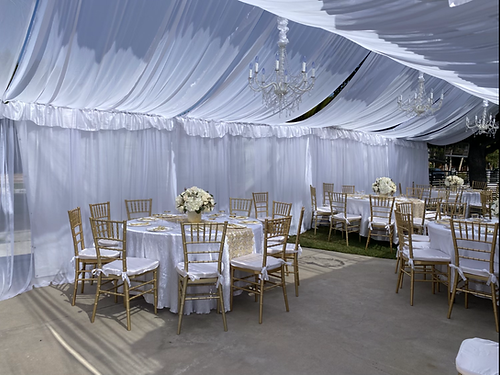 Setup Area: Size: Actual tent is 18ft x 40ft, minimum space required is 22ft x 44ft
Attendants: Set-Up: Tents cannot be setup above any solid objects, bushes, trees, furniture, cars, on second floor decks, dirt or mud. Tents cannot be setup under any overhanging power-lines, tree branches, or overhanging gazebos.
Outlets: 
Electricity: Electrical outlet must be no more then 50ft from where the tent will be installed. If outlet is further away client will have to provide additional extension cords.
Age Group: 
Anchoring: If tent is setup on grass we will use stakes up to 36in in length to anchor the tent. All utilities and irrigation must be CLEARLY MARKED prior to arrival for tent install. It is clients responsibility to pull any permits. If tent is setup o
Description



20ft x 40ft Classic Style Draped Tent, 
Chandelier Lighting Included Draping Available In All White, Ivory OR Black (One Color Draping Only)


(7) 60" Round Plastic Tables OR6ft Rectangular Plastic Tables


(70) Chiavari Chairs (CushionsIncluded)

(Available In Gold, White, Black, Silver, Clear, Rose Gold)


(7) Regular Satin Table Linens (We Have A Large Variety Of Colors For You To Choose From
High Wind Policy:
In the event of extreme weather or high wind we will not be able setup the tent. We will issue a cancelation and refund for the tent rental.
We reserve the right to cancel any tent if there is potential risk of injury or damaged.
These tents are not a shelter from extreme weather and must be evacuated in the event of high winds.